[ad_1]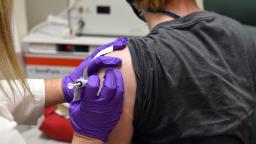 Operation Warp Speed officials outlined a new federal system Monday to track information about who has been vaccinated against coronavirus, but said it will not include information that can personally identify people who have been immunized.
The data clearinghouse will be populated with information provided by states. 
State immunization systems will provide information about who has been vaccinated, and those systems will feed into a federal data system, Army Col. RJ Mikesh, the program's information technology lead, told reporters. 
"The data clearinghouse is something we established. It's new as part of this pandemic response," Mikesh said.
The program is signing data use agreements with jurisdictions that will allow it to receive details such as who the patient is, which vaccine they received, and which administration site provided the vaccine. It can handle personal identifying information, but the plan is not to include such information, Mikesh said.
Each state or jurisdiction can decide what information to share, so the information will not be uniform. Identifying information such as Social Security numbers and driver's license numbers will not be shared, but states can share information like date of birth, race and ethnicity. 
"The CDC took a lot of time to understand what those data elements were. They are truly the minimum data requirements of what would be asked for in a pandemic response," Mikesh said, addressing concerns about privacy.  
"The information that's personal, if that is allowed to be shared, is really there to help us with that first dose verification so that we can understand what vaccine the person received, and when they receive it," he said.
Most states have submitted their data use agreements, but a handful are still being worked out, and should be finished this week, officials said on the call. 
[ad_2]

Source link