[ad_1]

Once thought of as the hobby of the baby boomer generation looking to own a nostalgic part of their youth, the classic car industry was expected to eventually perish alongside these boomers. Fortunately however, it seems that the industry is being saved by young millennials who have, unexpectedly, begun collecting vintage automotive, built long before they were even born. According to Craig Jackson, CEO and chairman of Barrett-Jackson, an auction house specialising in classic cars, there has been an average increase of 48% in the number of millennial buyers every year since 2009. With this increase in demand for old cars, comes a rise in the demand for skilled automotive restoration services.
Before getting into down and dirty of vintage car restorations, perhaps it would be appropriate to explore the appeal of these classics. The first factor would undoubtedly be the sense of rarity and exclusivity associated with owning classic cars. If you think about it, the mass production of cars might have started in 1913 with Henry Ford's Model T, but the output of these early production facilities were nowhere near the numbers brands achieve today using automated systems to streamline the manufacturing process. This contributes to the relative rarity of vintage cars which were made by calloused hands of these early carmakers.
This brings us to the next reason for the continued demand for vintage cars. The fact that many of these cars were made by skilled workers via an intensely menial process gives each vehicle an undeniably human and historical connection to the era it came from. It's one key reason why Rolls-Royce's handcrafted bespoke Phantom collection is still going strong. And of course, it's a representation of the carmaker's mastery of his craft. With unique designs, emotional connection, and the embodiment of craft, owning a vintage car is much like owning a mechanical watch, and it's little wonder why demand is still going strong.
Unfortunately, collecting and owning vintage cars is an expensive hobby, particularly if you're looking to get your hands on a vehicle in pristine condition with all original parts. As a result, many are turning to buying classic cars in less-than-ideal conditions and then having them restored to their former glory.
When having work done to a vintage automobile, there are typically two ways to go about it. For purists who value historical accuracy and authenticity, they typically go out of their way to ensure that their cars are refurbished and restored to factory specifications utilising original factory parts. Another way to go about doing things is what is colloquially known as resto-modding, a portmanteau of restoration and modification. As the name implies this involves modifying the vehicle using modern technologies and components. Typically, owners who go down the resto-mod path are looking to incorporate more contemporary features like air conditioning, audio systems or airbags, while maintaining the car's period-correct aesthetics.
So, at this point, you've purchased a vintage automobile and decided between period-correct restoration and resto-mod. All that remains is to find a workshop that can refurbish your classic car. For the longest time, the only people doing restoration of classic cars were private businesses started by experienced mechanics and carmakers who had spent their lives training with the world's biggest brands. While companies like Exquisite Marques in Singapore and Palm Beach Garage in the US have done amazing work restoring vintage automobiles, there have been problems regarding the availability of original parts from time to time. In cases like this, many questioned why there weren't brands which offered restoration services for their old cars given that they would be more familiar with the nuances of their own models and be more likely to possess original parts.
Thankfully, with the increased demand for restored vintage cars, more brands have started to offer these services with their own in-house restoration programmes. While costly, for those looking for the greatest authenticity and historical accuracy possible, these programmes are second to none. Examples of these include BMW Group Classic which reportedly has more than 60,000 different spare parts available and the ability to fabricate these components should they run out. With Ferrari's programme, which provides authentication and refurbishment services, the marque ensures the legitimacy of each vehicle and its parts through its extensive records dating back to 1947, and a final inspection after each transformation.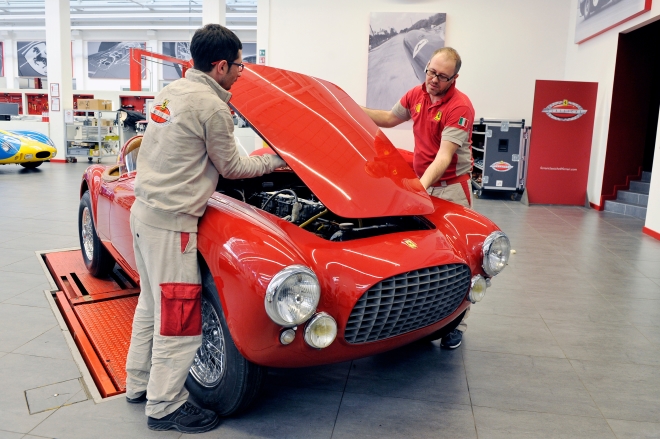 For now, there are only a few brands which offer restoration programmes, of those, most of them are only offered in certain locations. However, given how the popularity of vintage cars is holding steady and is projected to grow in the next few years, it's likely that more will come on board, encouraging more enthusiasts to take up this hobby and experience the emotional connection to history and sheer pleasure that can only be obtained from driving a classic luxury automobile.
[ad_2]

Source link